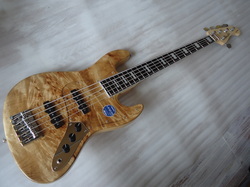 Dear customers, if you are a Bacchus user please let your voice be heard here! Give us links to your music, your videos, give us your thoughts and opinions!!! You do
not
have to be a Bass Japan Direct customer, just a Bacchus user to post here.
I would like to start by adding a couple of our Customer's right here in this post.
Let me introduce you to a couple of fantastic bands that now have a Bacchus Bass in their ranks....or if you are from their home country you may already know of them.
Firstly,
Uncle Jed
, is an Australian band that has rocketed to success over the past couple of years thanks to sheer talent, dedication and also a spot of good fortune. Check em out
here!
Uncle Jed's bassist / guitarist / backing vocalist, Danny Stitt, now has a Bacchus DX5 BGP model in his arsenal. Thanks Danny!
Also you have to check out this great Italian Jazz-Funk outfit,
Soul pains,
Bassist Mario D'Ambrosio, is using some Bacchus Global series models now, and is digging them!
Again, Bacchus users, this is
your page
, so please feel free to comment, leave links, send pics / videos of you with your Bacchus in action.
Thanks for choosing Bacchus instruments!